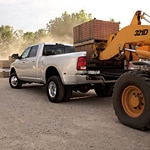 There are a number of exterior appearance packages offered for the Ram 3500. You can choose your own favorites based on personal preferences and the like. However, people tend to like some of the standard features and then just branch off from there. For example, most prefer the fact that it has LED headlights that make seeing the road at night a lot easier.
Fifteen different wheel designs means that you can customize this truck down to the last detail exactly how you want it. You never have to sacrifice anything on style or personality with this one, and that is exactly how it should be. Ram 3500 owners are not the kind of people who tend to like to make sacrifices in the first place, and they don't have to.
Enjoy the easy-to-use tailgate to haul anything you need to or to have a party, and always make sure you show off your impressive new truck to all of your friends.